Polymer Clay, Precious Metal Clay and Beading Instructional Videos


Sarah Shriver

Having begun her explorations in polymer clay in 1987, Sarah has become widely known for her intricate canes and sensitive use of color. Inspired greatly by textiles, she uses interlocking reapeat patterns along with detailed color blends to create her language of images in polymer clay.

See more of Sarah's work at:
www.sarahshriver.com
Intricate Kaleidoscope Caning with Sarah Shriver
Learn how to build canes with surprising depth and movement, as Sarah teaches you how to build blocks of undulating color into a simple cane with the illusion of an over-under weave.
Sarah will also show you her kaleidoscoping techniques, revealing the myriad of intricately patterned canes living within your own creations.
Runtime: 83 Mins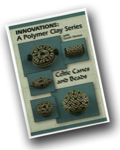 Celtic Canes and Beads with Sarah Shriver
Learn to build canes with the appearance of a Celtic Knot. Sarah shows her techniques for manipulating or "kaleidoscoping" the canes to build a series of intricately patterned canes and lastly, shows her construction techniques for building some very cool bead shapes.
Runtime:@ 120 minutes.