Polymer Clay, Precious Metal Clay and Beading Instructional Videos


Lindly Haunani


Lindly is an artist with a lifelong fascination with colorful repeated patterns. Working with polymer clay is a joyful and natural extension of the interest. She began teaching workshops in 1990 and enjoys traveling to teach and lecture.
She is a founding member of the National Polymer Clay Guild. Along with Pierrette Ashcroft, she is the author of "Artist's at Work: Polymer Clay Comes of Age."

Lindly's Website:
www.lindlyhaunani.com/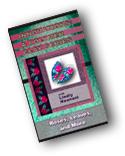 Roses, Leaves and More


is an in depth tutorial on the five fundamental principles of successful canemaking. You will learn the importance of
value
contrast, hue selection, clay preparation and cane construction. Learn how color coordination between your roses, leaves and backgrounds will increase the impact of your work. Strategies for laminating, onlaying and cane modification to craft your final projects are included. Utilize your 'bonus clay (leftovers) with two magical techniques - hypertwisting and Natasha beads. This video is jam packed with exciting projects, idea starters; tips, techniques and valuable bench tricks. Roses, Leaves and More is a must have addition to your polymer library.

Runtime: 105 Mins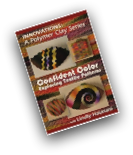 Confident Color -Exploring Textile Patterns

Now Shipping! A 2 DVD set, nearly 4 hours of great, innovative ideas from Lindly!
Learn how to add harmony to your work with increased color confidence while learning valuable bench tricks and techniques for working with polymer clay. Lindly will walk you through making a series of color coordinated stripe blends that will be used to make eleven different laminated textile inspired patterns including: Ikat, Seminole Stripes and Flame stitch.

Runtime: Disc 1: 120 mins Disc 2: 97 mins Total length 3Hrs 37 mins on 2 DVD's